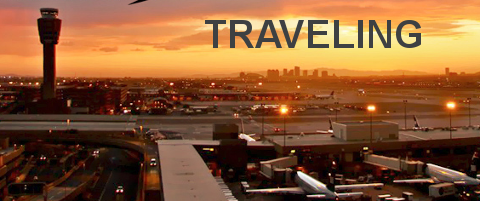 When you are traveling the US or internationally your first priority is getting to your destination as easy as possible. But why not enjoy some awesome perks before or after your flight? Check out some of these airport amenities.
1. San Francisco International Airport
Guiding over 40 million travelers on their way each year, San Francisco's second busiest airport wants to make sure you enjoy whatever time you spend there. Relax before or after your flight in their reading room. Stuck between flights? Check out the 24-hour yoga room for some de-stressing meditation. Get a manicure, pedicure or even a facial at the XpressSpa. If shopping is what helps you pass the time the airport offers more than 80 stores for items such as sports gear, technology, or you can check out some new fashions at Gucci or Coach. If you are trying to keep kids amused, let them visit the fish at the aquarium, or go on a scavenger hunt, complete with a prize at the finish.
2. Chicago O'Hare International Airport
O'Hare airport is where one of the largest dinosaur skeletons in the world is located. The brachiosaurus is a gigantic 72 feet long and 40 feet high! Adults and kids alike love gazing at this fantastic display. O'Hare is also well known to movie buffs as the location of the first 2 "Home Alone" movies, and "Meet the Parents", among others. There is also an aircraft exhibit, kids interactive playground, and of course authentic deep dish Chicago pizza!
3. San Diego International Airport
Art lovers will enjoy San Diego's airport. Enjoy shopping, dining, and plenty of relaxation throughout the airport. The art exhibits will give you something to browse and really enjoy. Check out some fantastic paintings, breathtaking photography, and even live entertainment. The performing arts program includes dance, theater and music to put a little kick in your step as you proceed through the airport. Don't miss the awesome display called "taxonomy of a cloud". This spectacular formation is made up of 365 strands of Swarovski crystals, and makes a beautiful shower of rain.
4. Burlington International Airport, Vermont
Burlington's airport is perfect for getting in some much needed relaxation time and de-stressing. Couches, coffee tables and easy chairs will make you feel welcome and give you a place to cuddle up and unwind. The skyway is furnished with rocking chairs to sit back and enjoy the views of the incoming and outgoing planes.
Evolution Yoga is a great spot to stretch out from that long flight and enjoy the quiet. There is even a shower available. Above the parking garage is a beautiful rooftop garden with benches and a picnic table. The observation tower is the perfect spot to relax and get the best view of the planes on the runway and the mountains in the background.
5. Hong Kong International Airport
Hong Kong's airport is unique in that it offers weary travelers the chance to hit the golf course for nine holes. Equipment rental and luggage storage are offered so you can enjoy yourself even if you have no clubs with you. There is plenty of shopping with over 280 stores, and a kids' area and discovery center will keep the little ones occupied for those long layovers.
6. Vancouver International Airport
The Vancouver airport wants you to get the feel of the Canadian wilderness before you even venture outdoors. The green wall is 55-feet tall, and houses over 27,000 individual plants in a beautiful pattern. An aquarium with over 5,000 sea creatures is the perfect place to just chill and watch the relaxing ocean life. If you have extra time, check out the nature path which will lead you into the forest, past a waterfall and pond to the majestic totem poles.
7. Heathrow Airport, London
London's Heathrow is known for those who want to get in all the shopping they can while traveling. Shop high fashion stores such as Dolce & Gabanna, Prada, Tiffany & Co., Chanel and Dior. Mouth-watering Italian bistros can be found throughout the airport as well as sit down restaurants such as Gordon Ramsey Plane Food. Complimentary beauty services, such as make up touch-ups, massages and mini-facials are also offered.
8. Munich Airport, Munich
Munich airport wants you to get into the Oktoberfest fun no matter what time of year. Enjoy live music, Bavarian treats, a brewery and beer garden, and even an ice-skating rink in the winter.
9. Changi Airport, Singapore
Get some exercise and stretch out from your flight at the indoor nature trails, or relax by the butterfly garden. Adults and children alike love the world's largest airport slide. The slide is about 40 feet high and great for rejuvenating after a long flight. There is also a movie theater with free shows and a rooftop Jacuzzi where you get a complimentary drink!
10. Amsterdam Airport Schiphol
Schiphol is the perfect airport to venture into if you have a large appetite. Here you can find cuisine from around the world. Dutch meals, Asian cuisine, Mediterranean tapas and a seafood and wine bar. Try your luck in the casino or just relax in a lounge. There are also "Yotels", which are like a mini hotel room complete with a shower and a bed if you end up being there longer than you planned.