Holiday shopping is in full swing everywhere you go. Whether it is at the store, online or over the phone, people are purchasing like crazy. This means the identity thieves are also in gear.
They are trying to hack into your information as you purchase, connect with your bank, or even chat with your friends on social media.
AIRPORT CAR SERVICE
If you need luxury car service to any of Los Angeles' airports, call Roadrunner Limousine today.

Learn more about our
Luxury Limousone Car Service: LAX & Burbank
Or call 24/7 – 866.798.7694
This time of year people may not be as careful as they would other times. It is a hectic time, you may be in a hurry to get that quick last minute sale and just not pay attention to whether or not it is secure. You may forget to log out of a site, or not even be aware of what the thieves are possible of.
Below you will find some tips on making sure you can be as secure as possible throughout the holiday season and beyond.
Everyone should be aware by now of phishing emails, or scam emails. These can claim to be from anywhere, such as a shopping site, Paypal, etc. They can send you information on how to apply for an instant credit card, or they can claim that there has been a problem with your account or card and ask you to enter your information so they can check on the situation.
You may also get phone calls that basically do the same thing. They claim they are calling from your credit card account and that there may be a problem. They say they think your information has been stolen and they want to confirm your social security number, birth date or address. NEVER give these people any information, whether online or on the phone. If you suspect a problem hang up and call the place yourself and question the incident. If you see an email you can usually alert the source with a copy of the phishing email and let them know there may be a problem.
Online shopping can be tricky if you aren't aware of how to do it. Be sure you are on the right website. Check that it is secure by looking at the url and looking for the https (s means secure) instead of just http. There should also be a lock symbol on the left.
These days people don't scan over their statements like they used to. Everything is done on line and most people don't get paper statements anymore. Whether you get a paper one or not, be sure to check them out. Read through every transaction and look for anything strange or out of place. Don't overlook the small amounts under $2, as this is how many thieves steal your money…a little at a time. If you don't know where the charge is from, check it out.
When you scan your card, whether it be at a store, an ATM or even Redbox, check for skimmers. These are small devices that thieves attach to the reader that instantly steals your card's information.
Be wary of doing online purchases at a public spot such as a coffee shop. Public WiFi is hardly secure enough for these transactions and thieves will have your info before you know it.
Make sure you have protection with your credit cards so that you know what to do in case of an emergency. If you detect a problem, have the company freeze your card or report it immediately so action can be taken.
AIRPORT CAR SERVICE
If you need luxury car service to any of Los Angeles' airports, call Roadrunner Limousine today.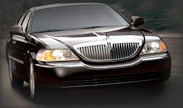 Learn more about our
Town Car Service: LAX & Burbank
Or call 24/7 – 866.798.7694